To celebrate the birth of our second child, I've decided to come up with a bi-monthly post about motherhood, parenthood, and stuff about raising children. These will be based on my own experiences, from other peoples' stories, from parenting forums, boards, and websites. Sources will be acknowledged.
Disclaimer: Even with 2 kids now, a toddler and an infant to be exact, I'm still not an expert on motherhood. I guess I'll never be. I'll always be a work in progress aiming for improvement.
To kick off this series, let me share with you what you need to bring to the hospital on D-day. These are mostly based on my own experience.
It is better to pack your hospital bag early than be
taranta
, but don't be too OA
naman
that you start packing as soon as you know that you are pregnant. You can start packing as early as your 28th week or you can be like me and pack your bags on the 35th week. I like packing on the 35th week marker
kasi
the clothes don't get too
lukot/kusot
and the bags don't get too
maalikabok
.
Pack 2 bags - one for you and one for baby. This is mainly for convenience. You do not need to rummage the entire bag looking for your underwear or something. I also pack a smaller bag for toiletries. Of course, inform your husband where the bags are.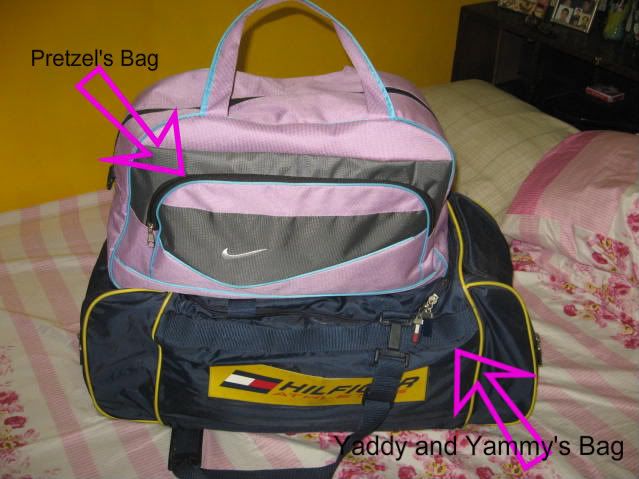 All packed and ready to pop.

Stick Post-Its on your vanity mirror in your room to remind you of stuff you still need to bring, but still using in the meantime like lip balm, deodorant, toothbrush, haircomb, etc. unless you are planning to buy new supplies. I don't buy
na
these things for a 2-5 days confinement. These are readily available at home and I just need a constant reminder. Inform your husband that there are still some stuff to be packed. Just make sure your husband or someone else can easily find the things you listed when D-day comes.
Prepare your documents. There may be some documents you need to bring to avoid any hassles during the big day. With my firstborn, I just brought a photocopy of our marriage certificate and a couple of signed copies of a Philhealth form. I should've also brought my latest ultrasound report and all laboratory test results. I had to ask my husband to go get them at home. On my second delivery, I brought every ultrasound report and lab test resulst with me including my pre-natal record book. This becomes handy when interns interview you for your medical history. You just hand them the book, they take notes, and somehow you can relax. Also, do not forget your OB's referral letter.
On a side note, make sure that you have signed copies of the Philhealth form
para
hindi na
ma-delay
ang
discharge
mo
unless you plan on reimbursing
na lang
.
Be ready with your
pambayad
, of coure, and have some (or lots of) extra. With my 2nd child, we were only prepared for a normal delivery, no complications (to the baby and I), and accomodations to a regular private room. I was to have a vaginal delivery and imagine my panic when my OB advised me that I will have a C-sec delivery right away. Read story
here
.
I delivered via C-sec, the baby had neonatal pneumonia and was confined for 6 more days after I was dischared, and we roomed in a suite. The cash we hand on hand was only half of what we needed. Our healthcard doesn't cover maternity and
buti na lang
it was December
at madaming pera ang mga tao
.
Now, what to put in the hospital bags regarless of the delivery type.
For Yaddys and Yammys (aka parents):
underwear
adult diapers and/or maternity pads (I personally prefer the diapers. The maternity pads are sooooo thick that they are uncomfortable

na

.)
toiletries (

Maski sinasabi nilang bawal maligo

after giving birth

, magdala pa din.

)
baby cologne
lip balm (especially helpful if you delivered via C-sec)

socks

towel and washcloth
set of clothes if you're not too keen on wearing hospital gown
husband's set of clothes
going-home outfit (preferably your maternity get up

pa din kasi

you'd still look around 6 months preggy)

slippers
maternity binder
padded bras and/or breast pads (Usually, first-time moms bring breast pads as they do not know yet how muck milk they produce. By the 2nd baby, they have a fair idea

na

.)
camera and spare battery (and film if needed)

mobile phone and charger
coins for the vendo machine
something to eat and drink
For Yabies (aka babies):
long sleeved tie/button-side shirts
pajamas
disposable diapers (Most nurseries provide a free pack of newborn diapers, but it's always better to have a spare pack.)
receiving blankets
mittens and booties
bonnets
wash cloth
The number of items you need to bring is up to you. The above is just a list of the most important things you need to bring. Aside from these, the love and support of your husband, family, and friends, and blessing from God for a safe delivery complete the D-day essentials list.
Hope this helps and next time I'll be sharing tips on things that the baby needs upon arriving home from the hospital.